Volunteer As a Psychologist at 
Therapy
Karo
Covid-19 Pandemic – Crisis Psychologist Volunteering Team 
Full-Time Psychologist Volunteering Program to help People Going through Mental Health Crisis
Duration – 2 Months
Preference – Full-Time Psychologist Volunteers
Hours – 4-6 Hours Daily
Certification of Volunteering will be provided
Volunteer with us and provide online therapy and Counselling. Join the team of the best Psychologists, Psychiatrists, Counsellors, Mental Health Therapists.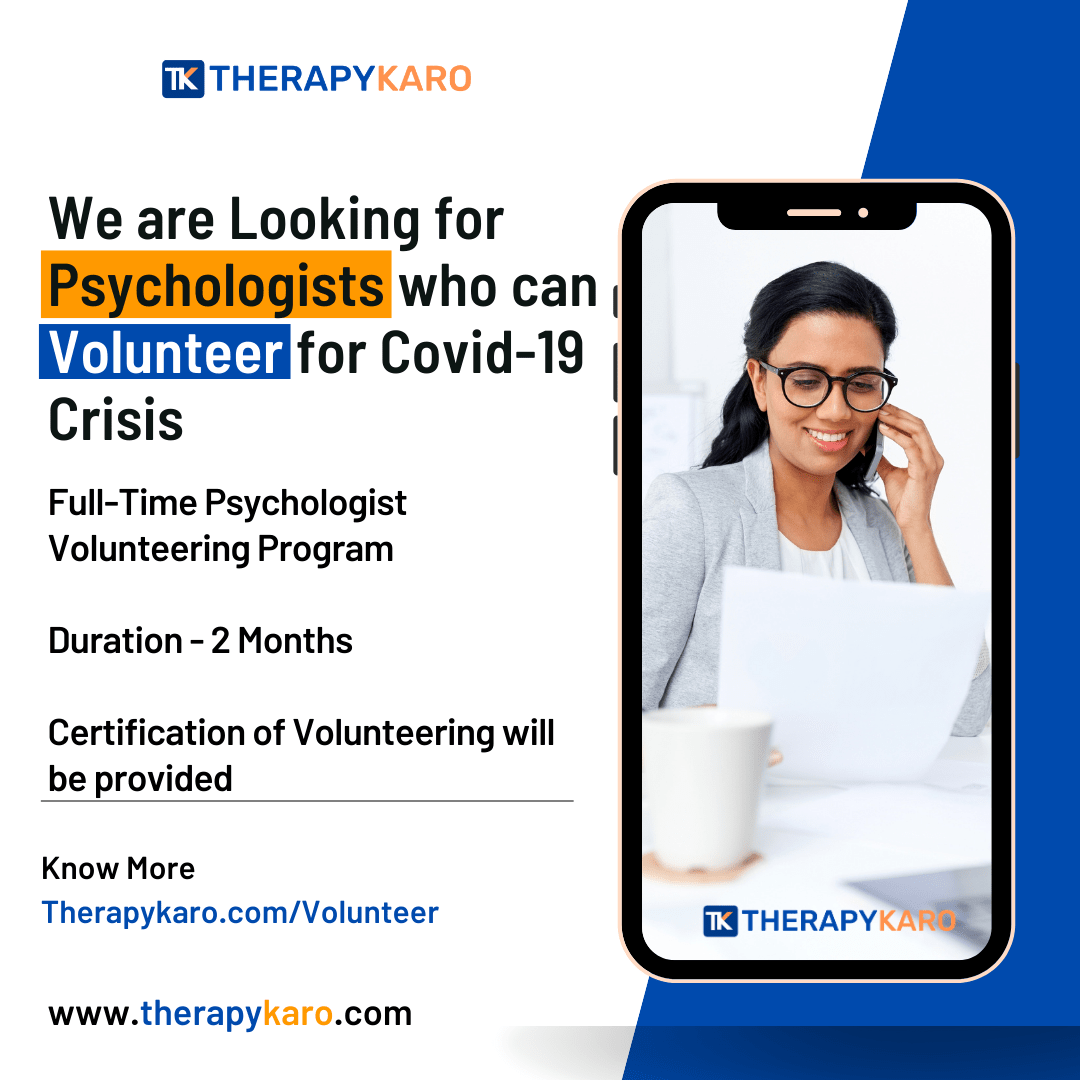 Steps To Enroll for the Psychologist Volunteering Program
Only if you are dedicated for 2 months to provide free online therapy and services to the people, we will approve your application. We are seeking top therapists who can provide quality mental health therapy sessions to people in need.
Who Can Apply ?
Counselling/Clinical Psychologist
Psychiatrist
Child Psychologist
Marriage Counsellor
You must have the relevant degree. Application won't be approved otherwise.
Step 1 : Fill the Google Form
Provide the details as per your full capacity. Providing Professional Photos and Video about yourself is compulsary.
Step 2 : Wait for Confirmation
You will get confirmation o your Email/Phone no. provided if you are selected. We will select you on the basis of your google form. Interview may happen in few cases. 
Step 3 : Get Added on our WEbsite
Your Profile Will be made on our Website
Start Volunteering and Providing Help
Start Providing Mental Health Services. This will be guided your mentor. All the processes and details will be taken care of from our side.
Volunteer as a Psychologist 
Providing the Biggest Platform for Free Online Therapy and Counselling to the People in the Crisis.
Get Listed with Verified Psychologists
Your Profile Details will be shared with the Qualified Experts on our Website.
Full Time Volunteering
This Volunteering will require 4-6 Hours every day. We are not seeking part-time volunteers presently who can't dedicate 4 hours minimum. Only Dedicated Psychologists will be taken.
Flexible Hours
Engage with clients whenever and wherever works best for you. You can fix the session with the clients as per your needs.
Certification of Volunteering
Get Certification of Volunteering for 2 Months. Signed by a Certified Psychologist. It will mention that you have helped people during the pandemic.
Gain Experience and Expertise
Our Senior Experts will be there to guide you in the best way possible.